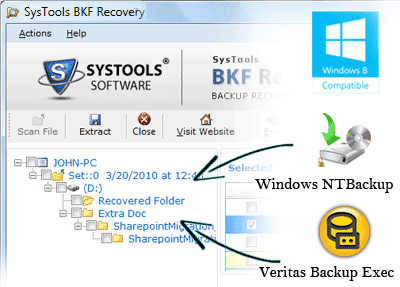 Our expert developers perform optimization of your backup system and help your organization to get back your backup data.Backup Files are not fault tolerant and are very vulnerable of being corrupted by virus, or any unmanageable occurrence. Backup System users face very difficulty while accessing Backup files if they are corrupt. You can easily perform BKF Recover process by Backup Files Recover Software.

Our company have brought a very unique featured tool for retrieving backup files from the backup system which are badly corrupt.Backup Data Recovery Software's services can be availed for performing Backup Recover process.
Backup Files Recover Tool's Exhibition
Backup Files Recover Process is processed for restoring back the corrupt or broken BKF files from backup system and makes these files accessible to be used. NTBackup.exe or MS Backup Utility is used for the creation of BKF files which are data replicas. You can also recover email, images, and files from unattainable BKF files using this Backup Files Recover Utility.
How to Perform Backup Files Recover process?
This tool is very easy to use and Our company developers have tried their best to make it very user friendly so that any unapproachable situation can be handled with ease by our software users.First you have to buy the BKF Recovery software as you can try accessing this tool by activation key. The software will be readily stored along with all other programs. When you open our Backup Files Recover utility you can find various options like Load, Scan, Extract etc.
Load: Load is used for initial loading of your files.
Scan: Scan feature performs scanning of the BKF files (You can choose among Quick Scan, Deep Scan & Range Based Scan).
Extract: This is the most important feature as the actual execution for recovering BKF Files are done by "Extract" option.
BKF File Recovery Software has user friendly interface for making it more convenient for the users to restore backup files which are corrupt or damaged.
"Backup Files Recover process can be applied for recovery of inaccessible files."